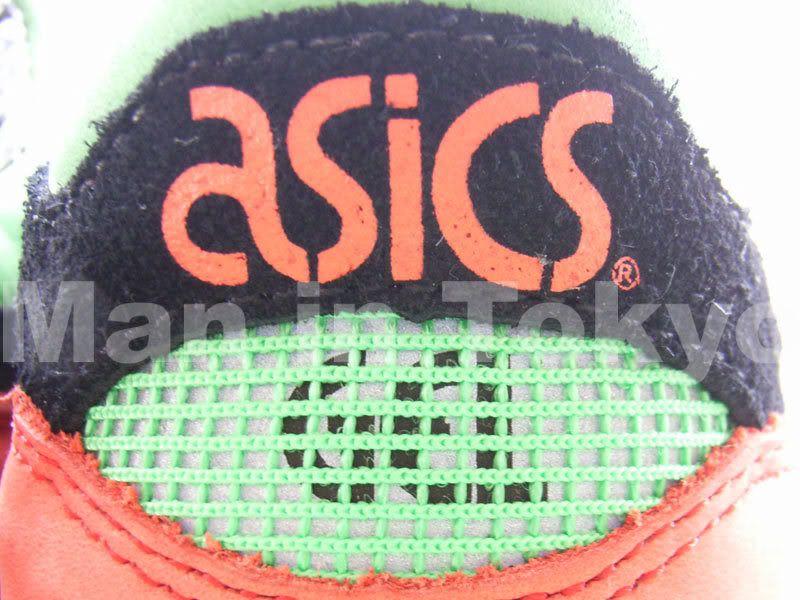 So...after two posts that were light on the kicks, I am back! This post sneaker heavy with some music to top off the sundae. I got a new pair people. And I am just a bit excited about them. EXAMPLE: I took about 50 pics of them yesterday. I have widdled them done to a paltry 17. Clean your glasses, color calibrate your monitor, let's get to the sneaker porn.
I love these shoes, and I worked hard to get them. (That is a story is for another day.) Other people can't quite see why I worked so hard to get them. "Why these?" they ask. It is a valid question. But for me, it is all about the details. Let's go through them, before we zoom out and see the big picture. First thing, I love that the shoelace
aglet
has the "X X X" on it. That is wonderful attention to detail.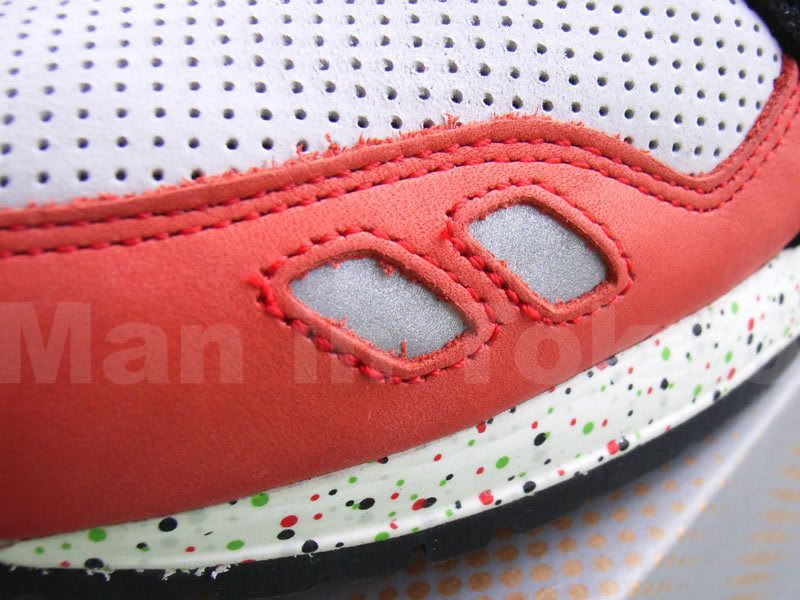 The speckled sole is beautiful. I don't have the words to describe how dope it looks. I love the color combination. Also the perforated leather toe-box ain't too shabby either. Lastly, those two grey tabs are important. That is some 3M goodness right there.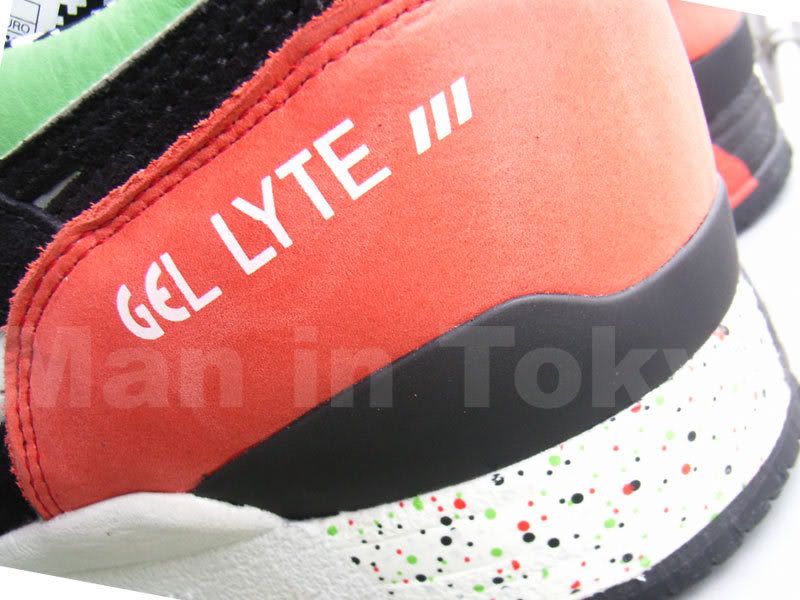 The speckled sole continues into the back. And now...we can see that these are a pair of GEL LYTE III's. You can start to see the main colors of this shoe: white, black, red, and green.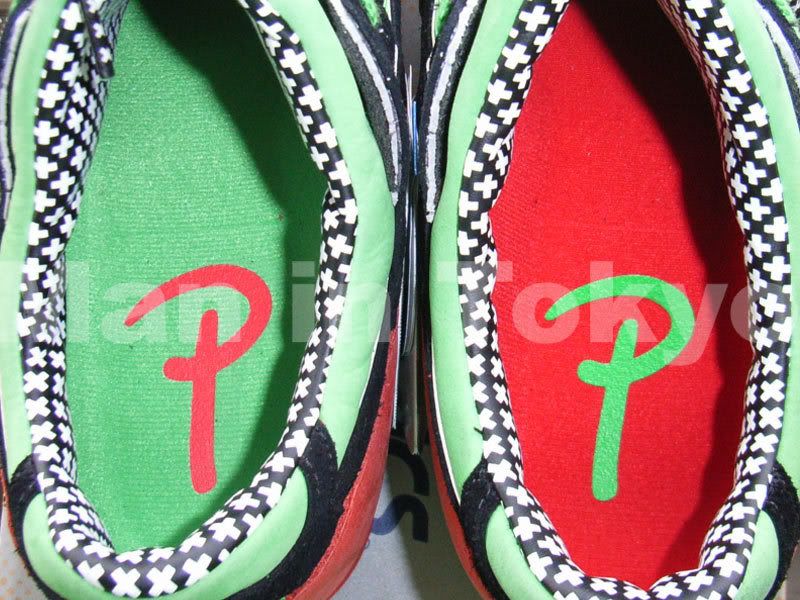 You can see how they put a lot of effort into these shoes. The opposite colors of the insoles are pretty damn nice. The "P" stands for
Patta
. They also designed the
Nike "Homegrown's" that I picked up in New Zealand
. Their shop is in Amsterdam...the land of my ancestors. This shoe was inspired by the
flag of Amsterdam
. Those St. Andrew's crosses are everywhere on these shoes...and I like them.
In my travels on the net I have seen the total production somewhere between 120 - 192. It is nice that they are limited. But it is more interesting that the collaboration is with
Asics,
not the regular players. (Nike, Adidas, New Balance) Another interesting thing about these Asics is their tongue. It is a something called a "split tongue". It is supposed to be the ultimate in comfort. I think it looks pretty dope too.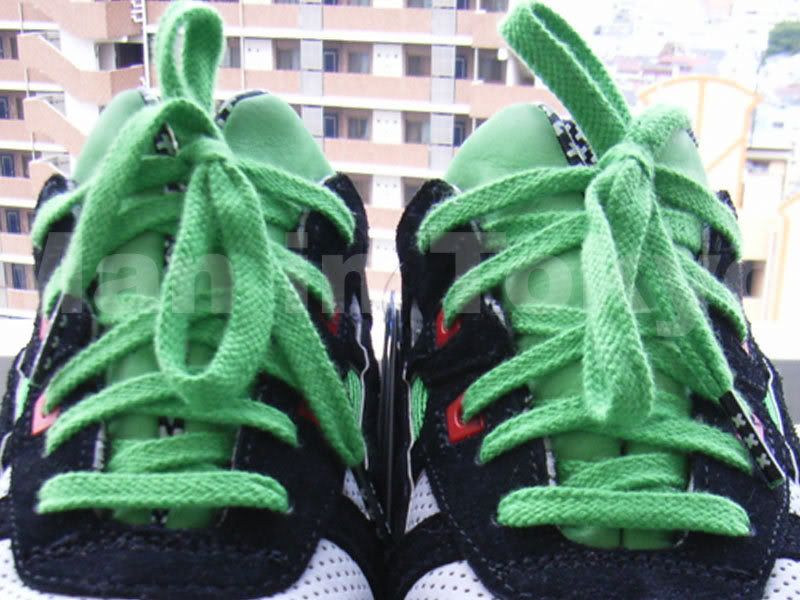 Ok, enough with the teasers. Here are the
Patta Asics
I have been lusting after for way to long.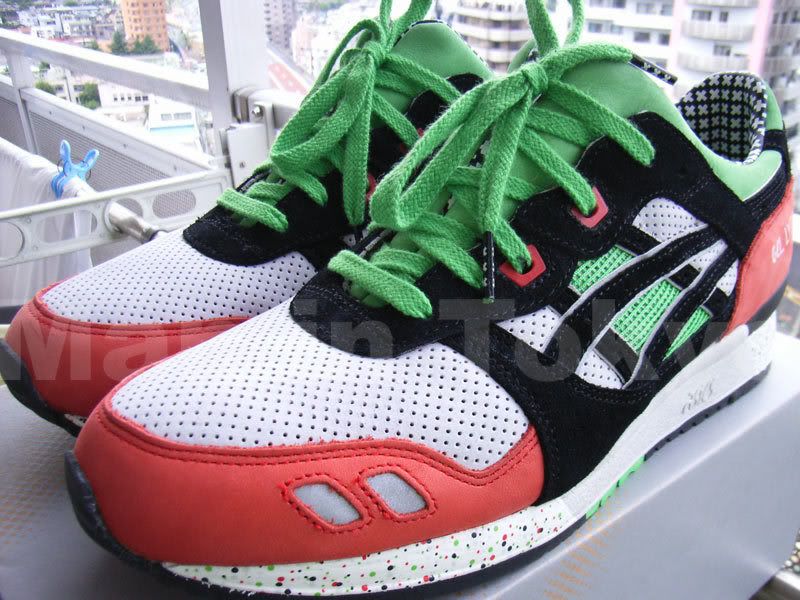 And here they are from the back. Notice the green mesh. It is so fine.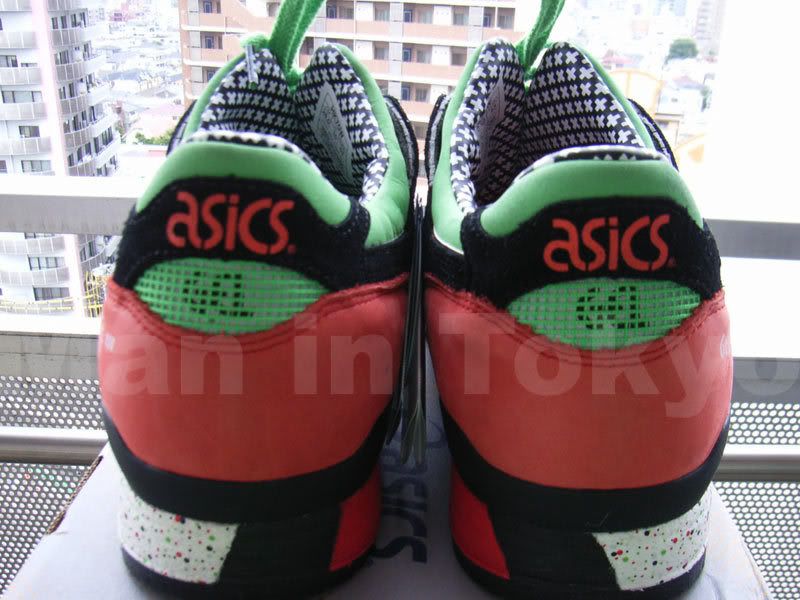 Another killer touch is the reflective material on these bad boys. Not too much...but just enough to give it a little punch.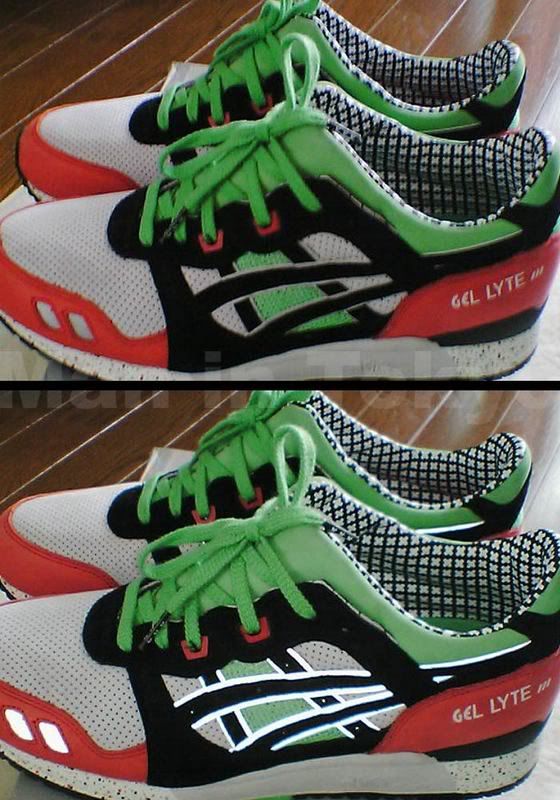 Now, I have not worn them outside yet. And, I don't have any immediate plans to do so. But I will. Shoes are made for wearing, not staring.
Regardless of the money I could make on Ebay.
Well, after this next pic I can't say they have never been worn.
I like the tiny hit of green on the sole. You can see how the split tongue works here.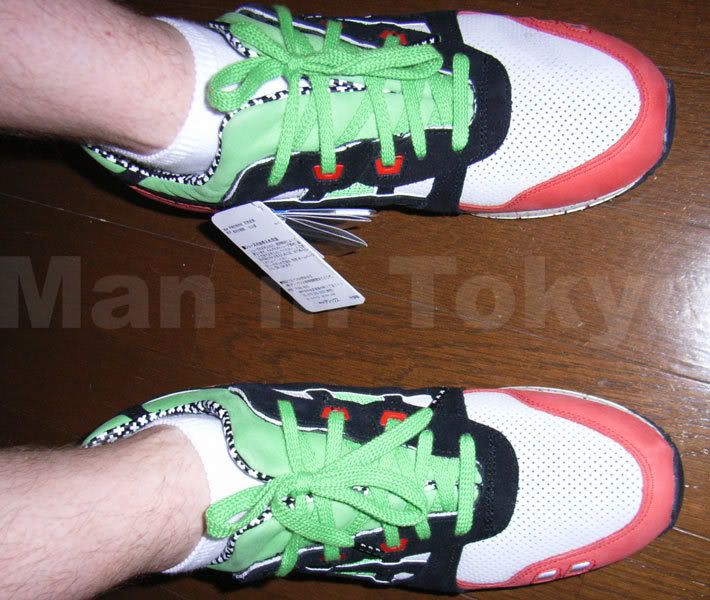 So, it was quite a set of goodies that came with it. Everything seems really well thought out and executed to perfection. Some people might think the green laces are a bit
ho-hum
. They want something with a bit more excitement. Try these...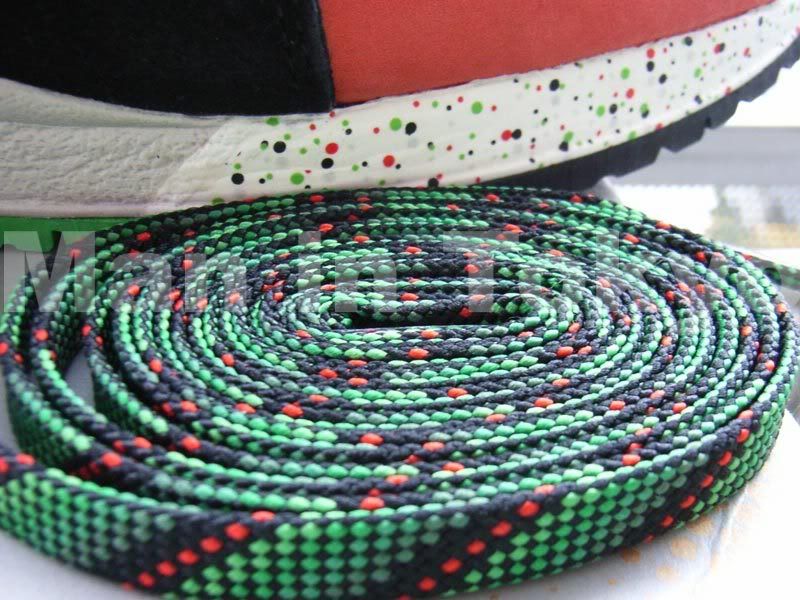 Those should get your excitement meter jumping. But maybe you wanted to play up the crosses. Got you covered there too.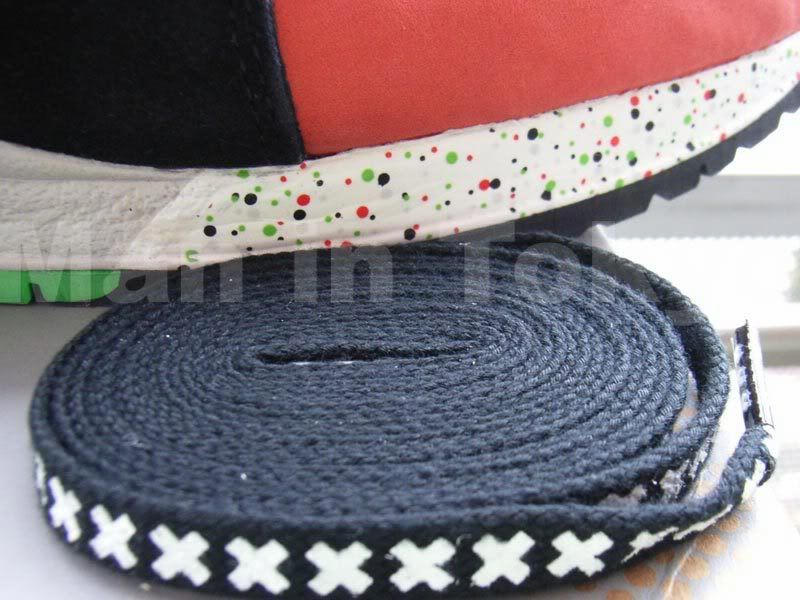 Here is a pic with all the small goodies. It came with a key chain as well. I'm in no need of a key chain...but I am pretty damn happy I have one.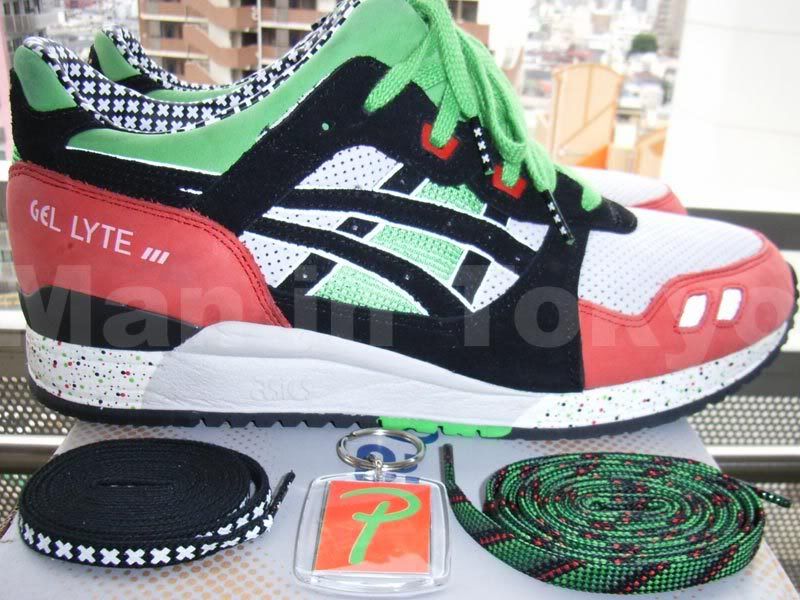 Oh, there was one other thing that was included in the set. Here is a hint.
For all of you that guessed a backpack...well done! I have not had a backpack in a long time. But this one is pretty damn nice. And to answer your question, I won't be wearing them at the same time. Not ever.
But, just cause I won't be wearing them together doesn't mean I can't snag a picture of them together.
And there you have it. The shoe that easily popped to the top of of my shoe heap. You all will be the first to know when I end up wearing them. I already have the perfect shirt to rock with them. Fun times over here.
MUSIC


#1.
T.I. or T.I.P.
, I am not sure who...but this is them(?) at their best. All over-dramatic strings and piano with a slamming beat, When the beat drops at the beginning of each verse it is goosebump worthily. Click
HERE
to hear who is going to save hip hop for us. [via
Discobelle
]
#2. This here is an amazing track with whistles and funky synths. It just floats around and then gets down to business...the business of grooving it's electro ass off. It is a track by Simian Mobile Disco, a wonderful name if you ask me. Here is the
Switch remix of their track "I Believe"
. [via
Electric Zoo
]
#3 Here the evolution of a track.
Part One: A song in praise of big rims.
Part Two: A song in praise of big t*ts.
Part Three: A song in praise of
mopeds
.
[via
Discobelle
and many other places]
You know I got the most love for the last indie effort. Plus how can you hate on a track that includes this line; "If the headlights going out...just jiggle the cord."
Enjoy your week.
PS. Here is a
link to Patta's blog
. You can peep all the stuff they are up to. Be warned, the site is heavy as hell. Almost crashes my shit every time. It is worth the risk though...do check it out.
Later